See Our Work
Partner with the experts!
Northern Parkway Overpasses
MCDOT's Northern Parkway Overpass Project consisted of the construction of two new overpass bridge crossings over Reems and Litchfield roads. Additionally, the project included PCCP pavement, drainage, signing and striping, and parkway lighting. Tristar served as the Prime consultant and provided construction administration and inspection services for the $10.5 million project. This project was completed in June 2015. 
El Mirage Road: Northern Avenue to Peoria Avenue
MCDOT's El Mirage Road project involved widening the roadway between Northern and Peoria avenues. The project also included intersection and signal improvements at Olive Avenue, Joe R. Ramirez and Cinnabar roads. Tristar served as the Prime consultant and provided full-service construction administration services for this $8.1 million project. As a result of the efforts of Tristar and our project partners, the project was awarded the 2018 Arizona Transportation Partnering Excellence Award. This project was completed in June 2018. 
Deer Valley Road: El Mirage Road to 109th Avenue
MCDOT's $33 million Deer Valley Road project involves widening the existing roadway to five lanes and extending it across the Agua Fria River. The roadway connection across the river will be completed by placing more than 750,000 CY of earthwork borrow material and constructing two bridges: a single-span underpass at Tessmer Road and the signature 711-ft five-span, precast, prestressed, AASHTO Type Super VI concrete girder bridge crossing the river. The scope of work also includes a storm drain system, drainage retention basins, embankment protection, retaining walls, box culverts, guardrail, concrete barriers, traffic signals, street lighting, interconnect conduit, signing, pavement marking, pedestrian sidewalk ramps, landscaping, and irrigation. Two roundabouts are also being constructed as part of this project. MCDOT also partnered with the City of Peoria to construct a portion of the City's new reclaimed water distribution system within the project limits. 
Our Award Winning Projects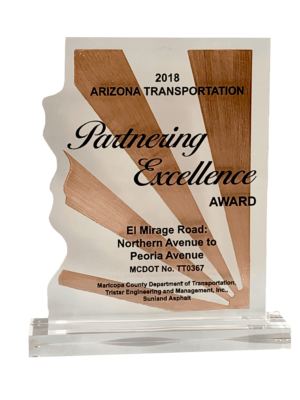 2018 Arizona Transportation Partnering Excellence Award
 El Mirage: Northern Avenue to Peoria Avenue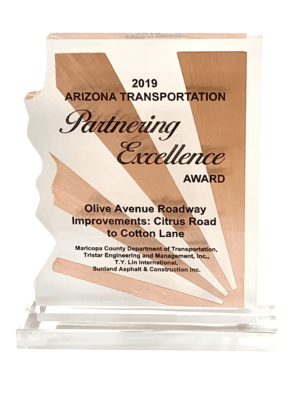 2019 Arizona Transportation Partnering Excellence Award
Olive Avenue Roadway Improvements: Citrus Road to Cotton Lane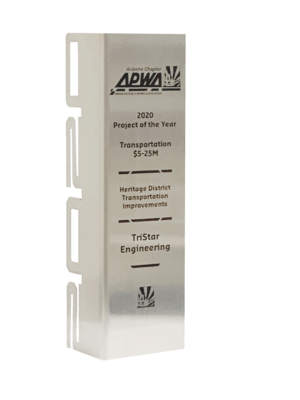 2020 Public Works Project of the Year Transportation
$5-$25 Million Award
Heritage District Transportation Improvements